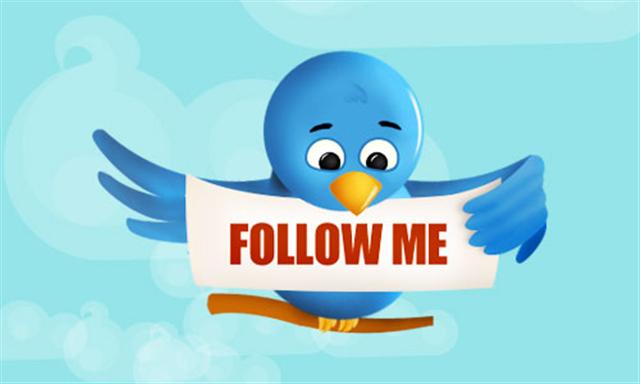 This bird knows where it's going.
You probably have a Twitter account. And if you don't you should – and not just because 'everyone is doing it', either.
Alright, it kind of is because everyone is doing it.
But also Twitter is a great place to get fast-breaking news, out-of-context commentary on current events, a social addition to television events like the Olympics or X-Factor, plus you can enter contests, hear about events, see comedians test out new material, and find out what your favourite bands are up to. All pretty good reasons to sign up.
And, if you're a company, it's important to establish a presence in the 'social media' sphere (if you haven't already hired someone to do it for you). On social media you can engage with clients and potential partners, promote things and generally do all kinds of business-type things. Build brand! Network! Etcetera!
Once you're on Twitter you need to populate your feed. You probably follow CNN, Stephen Fry, Oprah Winfrey, Lady Gaga and ESPN, and then slowly over time, add friends, other companies, and people you like to populate your feed. So far, so good. But then what?
Some flavour is what. It's time to spice up your feed.
The list below is a selection of some other accounts you should follow. Because whether for work or pleasure, it's important that you've got some colour in your feed as well.
DadBoner – The hilarious and depressing life of the perpetually ready-for-the-weekend Karl Welzein. Start following, you guys. Ex. Feel like I drank a thousand beers last night, you guys. Gonna reset the odometer for my man Don Kelly. Go Tigs! Woooooooo!
Wise Kaplan – The only guy out there still hustling for Newt. Ex. The guy who drives to his mailbox? Yep, it's Newt. VOTE GINGRICH 2012.
DRUNKHULK– Punchy allcaps commentary on current events by the syntactically challenged DRUNKHULK. I've talked about him before. Ex. LADY GAGA VOMIT ON STAGE! DRUNK HULK HOPE SHE NO EAT BAD MEAT DRESS!
ITSSADWHEN – Uniting humankind through poignant universal experience. Ex. IT'S SAD WHEN YOU SHOW FRIENDS YOUR FALCONRY SKILLS AND YOU HAVEN'T GOT ANY FRIENDS AND YOUR FALCON IS MADE OF HAM AND YOUR HAIR IS ON FIRE.
Neil Hamburger – Mandatory following if you're using twitter to promote stuff. So you can see how wrong it can go. Ex. Being stabbed in the showers while imprisoned for a crime you did not commit. @WheatThins: #WhatsWorseThan: Only having one more Wheat Thin?
Guardian Style – It's comforting to know someone has all the answers to your grammar and usage queries, and is willing to share. Ex. It is never, ever, ever OK (note it's not okay, either) RT @UrPretendFriend: @guardianstyle Is it ever okay to use 'action' as a verb?
Betfair Poker – Unbeatable flights of fancy from the World's #1 (?) poker site. Ex. BREAKING NEWS: Bolton have sacked manager Owen Coyle. He will be replaced by the vague sense that football isn't what it used to be.



Me (@millar) – What kind of Twitter list compiler would I be if I didn't also tell you to follow me? A bad one. Ex. The most important decision a medieval knight had to make was whether to woo a fair maiden or rescue a damsel in distress.
Alright, there you go. A little spice for your feed. Enjoy. And if you've got any suggestions of your own, drop them n the comments.