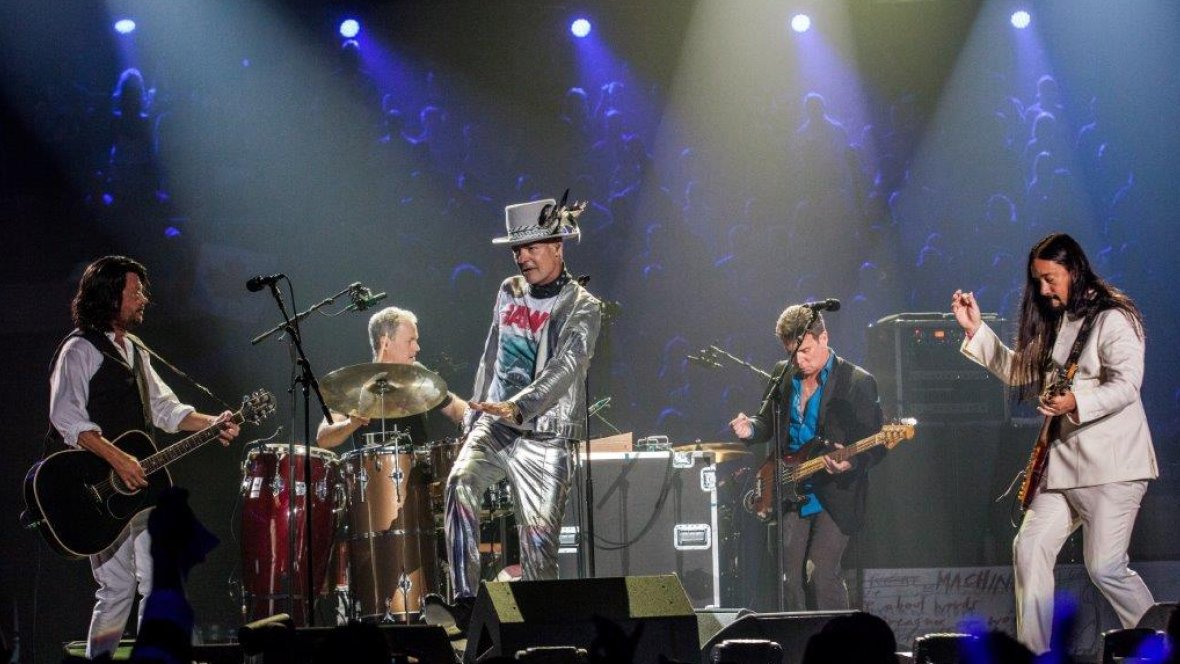 The first time I heard The Tragically Hip I had just started high school, working the occasional evening at the local radio station my dad managed. My job was plugging in commercial cartridges when the station we piped in programming from went on break. I got to hear new music and, thanks to the rules of CanCon, especially Canadian music. It was here that I heard their single "Boots or Hearts".
It's a catchy tune. But at that age, in that context, it came tainted with an unappealing hue of Canadianness. Although I liked it, the bluesy twang sounded somehow uncool to 13-year-old me.
Of course, I also liked "New Orleans is Sinking". And "38 Years Old" (both singles from that same album). And even though the haunting storytelling, the catchy riffs, and the cryptic imagery resonated with me, I never latched onto the music with both hands, the way that teenagers tend to.
And so it goes some years later through Fully, Completely, an album I never owned but know all the songs of. From bush parties, from borrowed cassettes, from high school where it was played on souped-up truck stereos and in gymnasium dances. I know it, like so many of my peers, from growing up in an idyllic but dysfunctional Canadian smalltown. That's where it seeps in.
But, looking for an identity and a personality, I chose a different direction; this music would not be it. Too homegrown, maybe. Or perhaps the fact that the music was ubiquitous and universally loved was enough for me to look to stake my claim elsewhere. At any rate, the fact that it was everywhere meant I didn't have to seek it out. It was just around.
Sometimes the times change
When I finally left my hometown for university in Vancouver (The Big City!), my world changed, quickly, then substantially and repeatedly.
In my second year, the Hip's Day for Night came out. It was pressed into my hands by my friend Scott MacDonald. By this time we were both fully immersed in the rave scene. All-night parties (followed by afterparties), the soundtrack exclusively house and breakbeats (maybe a little drum and bass thrown in as well).
But there was a stretch where I listened to that Hip album on repeat when I was back in my dorm room. Maybe my mood was urged along by comedowns in pre-dawn light, but I loved the piercing poetry and the brooding melancholic sound.
Again, not so much that I ever called myself a fan of the band, or casually made efforts in the direction of attending a concert. Besides, the next albums didn't exert a pull on me in the way these earlier ones did.
So I filed the Hip away as a good band, and quintessential Canadiana. But… not really my stuff.
A reckoning of sorts
But early yesterday morning I got up for what was in all likelihood their very last concert. Lead singer Gord Downie, Canada's unofficial poet laureate, is dying of brain cancer and this cross-country summer tour was their swan song. It culminated in a nationally televised final concert in their hometown, watched by 11 million people, including me. I'd been following along since I heard the news, and listening through their back catalogue. Fuck are they good.
The fact that this concert was wrapped up in a sense of finality, of loss, of a retrospective, made me look back at my own past, and recognise that it's just that: past.
They powered through their barn-burning chart-toppers, about shipwrecks and murder and innocence. I just sat there and soaked it up. And wept. Not the whole time, but a lot. The sense of bittersweet nostalgia grabbed ahold and wouldn't let go.
As Gord sang of hockey cards, weather vanes, the Canada Fitness Program, and a hundred other quotidian threads of the Canadian experience that the band weaves into the music I grew up on. As 11 million people joined together at viewing parties across the country and sang along. As I sat on my couch, transfixed.
When I was growing up their music was always there. Taken for granted, certainly, but there nonetheless. Of course I regret not recognising earlier the pull and power as their music wormed its way into my consciousness, never properly acknowledged or appreciated. But – for better or worse – that seems entirely in character for the young man I was. I wanted something more than what was around me, and so discounted some of the best parts of my youth.
Thankfully I've moved on – in every way. And perhaps that's why I felt that nostalgia especially acutely at this moment in my life: not-yet 40, but with my youth firmly in my past. But it all came rushing back to me, as I sat in my home 8,000 kilometers away from my roots, on the brink of fatherhood. I let my youth back in. It was a small, profound moment, tinged with sadness and loss. The music fit perfectly.
It happened on the morning, yet one more major growing spurt in my life soundtracked by the Hip. Only on this occasion – finally – it was recognised in real time.